AFMC Collider– Scaling your Defense Portfolio Part 2: Proposal Adequacy & Contract Briefs
October 25 @ 12:00 pm

-

October 26 @ 4:00 pm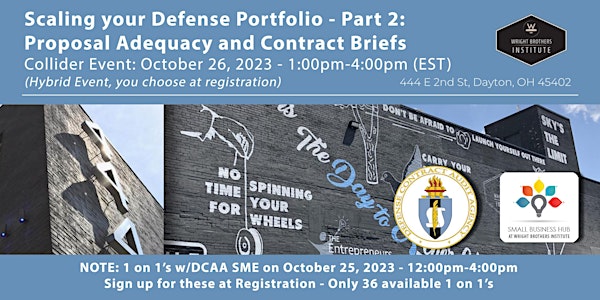 Air Force Materiel Command (AFMC) and the Defense Contract Audit Agency (DCAA) have partnered with the Wright Brothers Institute to present "Scaling your Defense Portfolio Part II: Proposal Adequacy and Contract Briefs" on Thursday 26 Oct 2023. This is the second of a series of colliders focused on helping small businesses understand requirements around accounting systems, proposal content, and voucher submissions to enable the award of cost type and larger dollar value fixed priced contracts. DCAA provides audit and financial services to the entire DoD enterprise. For this second event, you will learn about the DCAA mission, requirements for submitting adequate FAR 15 proposals, and the importance of preparing contract briefs. This is the foundational knowledge needed by any small business desiring to expand their portfolio.
Ms. Michelle Baldwin, DCAA HQ, will be presenting and available to answer your questions. Ms. Baldwin has extensive experience in evaluating proposals and auditing various sized government contractors. She is one of the Agency's team members focused on increasing small business engagement and understanding of DoD's cost accounting requirements.
Day 1 – Wednesday, October 25, 2023 – 12:00pm-4:00pm (EST) – Ask the DCAA Experts – 3 DCAA Experts will be present to give 15-minute One-on-One's to any Small Business who would like to ask DCAA related questions in a private setting.
One-on-One format, 3 interviewers x 3 separate rooms = 9 interviews – 15 minute sessions per hour (then the interviewers get a 15 minute break
Total time: 4 hours x 9 interviews per hour = 36 total 15-minute interviews
Eventbrite Collider registration will have registration for one-on-ones and Day 2 to attend the Collider – you may register for just one or both.
One-on-ones will be in-person only at Wright Brothers Institute – 444 facility – 444 E 2nd St. Dayton, OH 45402
First 36 SBs who register for a one-on-one will be assigned an interview (if you register for a one-on-one please be respectful and show up on time)
Registrants of one-on-ones will be notified of one-on-one time week of event.
Day 2 – Thursday, October 26, 2023 – 1:00pm – 4:00pm (EST) – HYBRID Collider: Scaling your Defense Portfolio Part 2: Proposal Adequacy and Contract Briefs
**Hybrid you Choose at registration